What happens to our students once they've left our doors for the last time and fly off into the horizon? Many of our students have gone on to do some pretty interesting things with their lives, and studying English as well as the overall experience of living in a foreign country, has a great deal to do with their success.
"Watcha Up To?" showcases past students and have them share with us what they're doing at the moment.
Let's say a very warm "Merhaba" to Volkan from Turkey and see what he's been up to lately!
~Sheetal Makhan / AYC
Watcha Up To?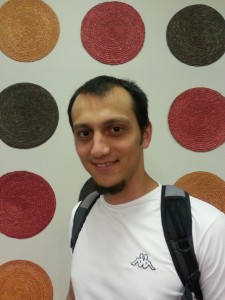 Hi. I am Volkan from Turkey. I have been in CT for six months between 18th November 2012 till 20th May 2013. When I  started to EC my level was Pre.Int  and at the end of this period I finished upper int. I wish I could get more time in CT but I had to come back to Turkey.I  am very happy to see  different cultures ,friends different activities.
I had come to Cape Town to improve my English , it was very important and still important :). I think I got good ability and skills.For example
specially correct writing, large Word memory, communication with people. I would like to say that I got confidence more than I have.
You can't buy it with Money  or rent it. Just studying, speaking. These are enough.
Now, I work at the company that is also a manufacturer and  I am an exporter and salesman. I can use my English in my work.That is very big chance for me . It was my 3rd week in my job I  joined  to the fair because of my job. I spoke with costumers  English and I couldn't see any problem.End of the fair I said myself WELL DONE VOLKAN 🙂 I had accomplished this period successfully.
As I told you; your neccesity are just studying and speaking after that don't worry. I recommend you to stay minimum 6 months;
If you have enough time..
Speaking ability,patience and confidence : These are rescuer that I need. CT taught me these are.
Nobody must  forget that  to learn a different language is difficult. Because you need all skills.
Volkan was an AY30 (Academic Year) student. 
Comments
comments