The IELTS candidates for the month of April 2014 are preparing and revising  for the English language exam which will be taking place on Saturday 05 April 2014!
We would like to wish all students doing the IELTS exams good luck and we know you are going to do exceptionally well.
Below are a few of our English language students that will be doing the IELTS exam along with their English teacher Ian Van Rensburg: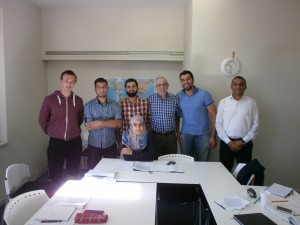 IELTS or 'International English Language Testing System' is one of the world's leading tests of English for higher education, immigration and employment.
You can prepare for and write the IELTS exam at EC English Language Centre in Cape Town – we are an authorized IELTS Testing Centre in South Africa!
The remaining IELTS test dates for 2014 are:
17 May 2014
21 June 2014
19 July 2014
16 August 2014
20 September 2014
18 October 2014
22 November 2014
06 December 2014
* All the exam dates are for the General Training and Academic IELTS exams.
South Africans writing the IELTS exam for immigration purposes can also join our 1 Day Workshop which runs every month one week before the exam takes place.
If you would like to register for the exam or would like more information please contact Rifqah Brenner on 021 422 4111 or email Rifqahbrenner@ecenglish.com
Find our more about learning English in South Africa.
__________________________________
Remember to follow us on Facebook or Twitter
RELATED BLOG POSTS
EC Cape Town – An Authorised IELTS Testing Centre
IELTS Workshop Feedback
Comments
comments