What happens to our English language students once they've left our doors for the last time and fly off into the horizon? Many of our students have gone on to do some pretty interesting things with their lives, and studying English as well as the overall experience of living in a foreign country, has a great deal to do with their success.
"Watcha Up To?" showcases past EC English students and have them share with us what they're doing at the moment.
Igor Cuna from Brazil was in Cape Town to study English for a very short time last year,  but left quite an impression on his friends and teachers at our EC Language School in South Africa.
~Sheetal Makhan / Academic Year Coordinator
Watcha Up To?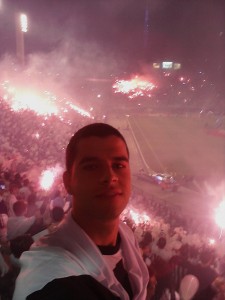 Hi, I'm Igor from Santos, Brazil. I started at EC School in April, 2013 at intermediate level, and finished in May, in the same level.
After I finished studying, I spent more time in CT until end of July, but unfortunately not at EC School. Nevertheless, the EC school crew kept in touch with me, and helped me a lot. Included the teachers, diretor and specially the students. I never will forget them.
Currently I live in a small city of São Paulo Coast, working as Physical educator in a school for intellectually disabled people. I love it!!
Every person is different each other and when we travel, we can see a lot of different things. I think that this trip taught me how to handle these: with different culture, people, behavior.
So lets travel again!!!!! (i hope soon)
Igor was a General English 20 student

__________________________________
Remember to follow us on Facebook or Twitter
RELATED BLOG POSTS
Watcha Up To?…Bora Mavinil
Watcha Up To?…Fernando Casimiro
Comments
comments