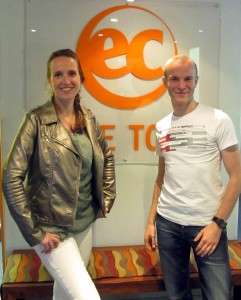 by the EC Academic Department
The Academic Team at EC Cape Town makes a concerted effort to fulfill our student's needs. While this may not always be feasible or realistic, it is something that we strive towards. An example of this is the experience that Christian and Christina (both from Germany) had during their time studying English at EC Cape Town.
This is what they had to say about their recent One-to-One private English classes they had with our English teacher Jeffrey:
"Especially for advanced students, a private teacher is the most efficient way to fine-tune their English skills. Compared to regular English classes, private lessons offer students the opportunity to focus on their individual needs and to work on specific areas. This results in a customization of the overall language training where courses are adapted to the individuals' level.
Within a confidential learning atmosphere, problems or common mistakes can be directly addressed, discussed and corrected immediately. Even though private lessons have been challenging for us, we really enjoyed the style of learning and appreciated the outcome."
 Are you interested in One-to-One lessons at EC Cape Town?
__________________________________
Remember to follow us on Facebook or Twitter
RELATED BLOG POSTS
English Lessons on the Beach
Why Choose Cape Town?
Comments
comments