by Sheetal Makhan / Academic Year Coordinator
Even if someone visits Cape Town for just a day, the chances of them visiting the V & A Waterfront is very high. Said to be South Africa's most visited destination, it is situated at the heart of Cape Town's working harbour.
As South Africa celebrated Worker's Day last Thursday (May 1), I decided to take a trip back in time in the form of a historical guided tour of the Waterfront. Some of our EC English students who opted not to sleep in (because of the public holiday) joined me at the Waterfront for an interesting and informative tour. We started off at Chavonnes Battery Museum which lies adjacent to the famous Clock Tower. With a guide dressed in period costume, we heard stories about events that led to the birth of Cape Town and the V & A Waterfront.
Because we were a small group of less than 10 people, the tour (which lasted approximately 2 hours) gave us the opportunity to ask questions and students were able to practice their listening skills. Even thought it was a public holiday, the students still felt like they had an English class with an added bonus of gorgeous surroundings as our backdrop!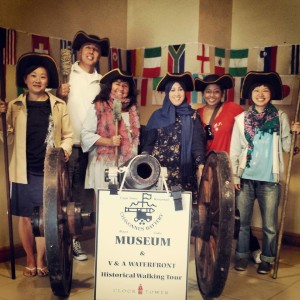 I jotted down some of the English terms that caught my ear and felt that they would be beneficial to students to know and keep locked into their memory!
"The old and the new live side by side"
We use this expression when two things are closely related / associated. Even though there are remnants of the "old" Waterfront, it is still fully functional with modern day advancements.
"Ships have to work around the clock"
If something or someone works "around the clock", it means that they work non-stop. There is no break! For the Waterfront, there is no start and end time for the ship's operational hours.
"We take [something] for granted"
When we expect something to be around everyday and we don't appreciate it, it means that we take it for granted.
"The noon gun is where Cape Town's heart beats"
The "heart beat" of something is where something comes alive and where all the action is. One can almost say that without it, it will not be fully functional.
There are a variety of social activities in Cape Town that our students enjoy!
__________________________________
Remember to follow us on Facebook or Twitter
RELATED BLOG POSTS
V&A Waterfront Free Summer Concerts
Cruise & Dinner at V&A Waterfront
Comments
comments