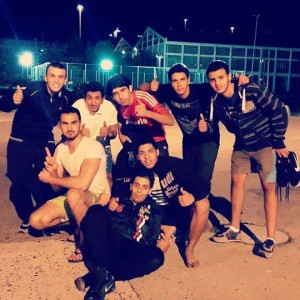 by Sheetal Makhan / AYC
It always fascinates me when expats find each other in a foreign country and soon socialize and celebrate special events as they would if they were in their own country. Homesickness becomes a thing of the past.
I was really interested to learn that a group of our Libyan students have weekly football matches. The sole purpose of these matches is just to foster brotherhood between the guys. I spoke to Abdulmoaz ("Azoo") who gave me a glimpse into what our students get up to on a Thursday evening.
Using the football field near the V & A Waterfront, the guys plan to meet and enjoy a friendly match.Why do they do this?Living in a foreign country, it's easy to get tied up in ones own life. With the sole purpose of just studying, our students all have goals and a mission to complete it by a certain deadline. While it's important to immerse oneself into a new culture, it's also vital not to forget ones roots! "It's not about competition," says Azoo, who is quite strategic in the way teams are formed. He explains that depending on everyone's level and strength, they ensure that each guy has an opportunity to play.
It was great to know that these matches aren't just confined to "Team Libya". Their Saudi Arabian peers also get in on the action and from time to time, they even play against South African's!Azoo exclaims, "It's an awesome, amazing feeling after playing." He goes on to say that for at least 5 hours a week, the guys imagine that they are not in Cape Town. They're back in Libya and enjoy spending time together – even after the match, when they proceed to the Waterfront to enjoy dinner together.
He advises other students who are new in the country and who are homesick to also get involved with some kinds of sports. Not only does it connect individuals, but it strengthens relationships.
When I asked if it feels like they're connecting with friends, Ahmed Swede corrects me by saying "…my brother."
Faisal Balsharaf from Saudi Arabia, who says that he got to know Swede from playing football (with the school) says that they share everything – even meals."If I win, I feel happy. If I lose, I'll still be happy," says Amar from Saudi Arabia who also joins the guys every week.Not a player? No problem. Friends like Abdulmuntaser goes along to support his friends and enjoy the time with them.I'm so proud of the guys for taking the initiative to make themselves feel comfortable and at home while pursuing their dreams.
Comments
comments