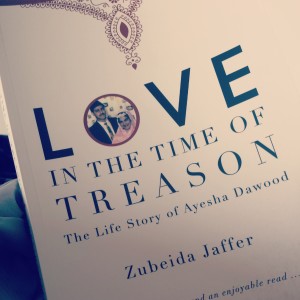 by Sheetal Makhan / AYC
I like to support South African authors, and when I picked this book up a few weeks ago, the synopsis at the back really caught my attention. It's the biography of Ayesha (Bibi) Dawood, a dedicated activist from the 1950's. She was one who stood trial with others like Nelson Mandela during the Treason Trials. She endured harassment and being imprisoned – being separated by her family for months on end.
During all this political turmoil, on the other side of the world, Yusuf was pining! He saw "Bibi" for the first time in India a few years back and jumped ship in Durban to travel to Worcester (just outside Cape Town) to find his lady love. Actually, I'd love to give more information about this story, but it would spoil it for you if you decided to read it!
I absolutely loved this. It was a love story like none I've heard of before and I found myself thinking of the characters even when I wasn't reading. I found it to be quite an easy read and I have no doubt that our students would enjoy it just as much.
The English Academic Year Programme believes that Readers are Leaders!
Comments
comments