This Monday, there were many class tests which were written. Usually, students want to go home immediately – exhausted from 3 hours of tests! However, this week was very different.
Five students joined me for a group tutorial focused on writing.
As their tutor, my purpose was two-fold:
1. I wanted to unleash their creative sparks and show them what they are unknowingly capable of.
2. I wanted them to escape. Even for 20 minutes. To forget about their worries, fears, situations with their families and countries.
By the end of the tutorial, my mission was accomplished. Here's why:
I presented the students with a picture. They had only ten minutes to write – absolutely anything that came to their mind and heart. As I always say, "Words that come from the heart, enter the heart." Their writing was so good that I had to share it here for the world to see. Congratulations! I'm so proud of you.
This was the picture: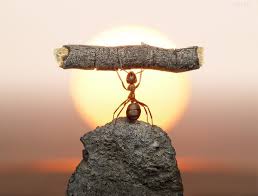 I won't surrender
by Mohamed (Libya)
I can see the ant.
It will try to do something difficult.
With the end of the day, it keeps trying
…and it's tomorrow.
It's a new day.
And I will try again.
So whatever.
I will try again and again.
And I won't surrender.
Never.
Every day is a new start.
If the world doesn't support me,
I can support myself.
When I fail in something,
I try to go to the top.
I will try and I will do.
Finally, I do.
Nothing is impossible.
I am possible.
No pain.
No gain.
—————————————-
It still has the power
by Mustafa (Libya)
The picture appears how the ant is working.
How it lives in the desert. On the rocks. Besides the sea, on the beach…and it still has the power until sunset.
It tried to live in hard areas and with multiple difficult interventions, like who can get her food and living facility?
It is an amazing picture and I hope that the human must know how difficult it is to get a good life without hard work.
No pain. No gain.
—————————————-
Larger than its size
by Marwan (Libya)
This picture is very expressive (it carries good meaning). It talks about the ant. It's a small animal, but it has incredible activity. It works all the time and does not feel bored. This picture teaches us how to work without boredom and to face challenging difficulties. The ant works hard and co-operates with each other to build their castle and storage for food.The meaning? The ant has a job that is larger than its size.
—————————————-
The Hopeful
by Abdulgader (Libya)
Our life.
Easy. Difficult.
Everything makes us either annoyed or comfortable.
What do I want?
What do I need?
If you are a hard worker, nothing is impossible.
Even small animals works to feed herself or for her children to grow up being joyful one day.
Start in the morning until late in the evening.
Ants. People. Elephants. Bees.
They like to try many difficult things in their lives.
The more you jump, the more you grow.
Don't give your heart to the hopeless.
Keep going to the top.
Nothing is impossible.
====
Check out EC's English Courses in South Africa
Comments
comments