What happens to our students once they've left our doors for the last time and fly off into the horizon? Many of our students have gone on to do some pretty interesting things with their lives, and studying English as well as the overall experience of living in a foreign country, has a great deal to do with their success.
"Watcha Up To?" showcases past students and have them share with us what they're doing at the moment.
Today we say "Merhaba" to a special student who was in my High Intermediate class last week. He was one of the special gems in that class, because he brought a wonderful sense of maturity to our discussions, despite his tender age. Here's Ziya's story!
~Sheetal Makhan / AYC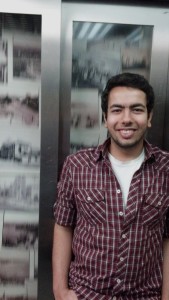 Hello,
I'm Ziya Emir from İzmir,Turkey. I've been to EC Cape Town (which has got most lovely teachers, friends and The Big Heart, Abdul) last July to September. I started at Intermediate level and finished at High Intermediate.
During my first week I didn't talk so much to other students and also my teachers cause I was thinking about that if I speak I would make a mistake. Then my host family and my teachers encouraged me for speaking. After few days I realized something: Damn! I was speaking English as like as my mother tongue! Okay truthfully I was working on it. Believe me my friends when you start to speak English, besides this you become to feel more confident and realize that you are able to achieve what you want in this life. Furthermore I have some great memories like this:
While I was studying in Cape Town, we celebrated Madiba's Day. We went to out to distribute some food to people who need it.
It was a really different experience for me.
Nowadays I'm studying my lectures in my university. Some of my lectures are English so I'm very lucky as you guess. EC look like a community which includes citizen of the Earth. Also it was located in the CBD (Central Business District)
What I'm trying to say; don't be shy and get closer to your friends and your teachers.
One piece of advice, try to join school organizations and make eternal friendships.
Till next time friends…
====
Check out EC's English Courses in South Africa
Comments
comments