International Teacher's Day is getting closer and closer so this is the perfect time to organize the 'favourite teacher' contest at our English Language School in South Africa.  Write the name of your favourite teacher on a piece of paper and deposit in into the box outside the Academic Office before the 26th of September.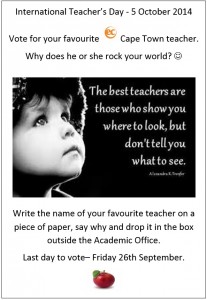 __________________________________
Remember to follow us on Facebook or Twitter
RELATED BLOG POSTS
Celebrating EC Cape Town Teachers!
Comments
comments