Last December, all the students from the CAE and FCE classes took part in their different Cambridge exams. One of our student, Magdalena, successfully passed her CAE exam. She's still at English School EC Cape Town to achieve a new goal, the CPE exam. Her teacher Samia wanted to express her happiness about Magdalena's success:
"Magdalena Rychly joined my CAE Preparation Course in September 2014 with one goal in mind – to achieve a 'B' symbol (75–79%) in her CAE exam. She soon proved to be a bright and determined student; and with hard work, diligent attendance, excellent class participation – and a lot of homework and reading – she comfortably achieved her aim. She's now enrolled in the CPE class, where I'm sure she'll do equally well. Congratulations and good luck, Magdalena!"
Magdalena also wanted to show her gratitude to her teacher:
"I really appreciated the 12 weeks with my teacher Samia in the CAE course. She gave me the preparation and the confidence to achieve my goal. I would like to thank her for the great job she did. "
In addition of the Cambridge exams, the school also offer the possibility to take part in the IELTS courses in Cape Town, which are part of English courses for education and exams offered at EC Cape Town!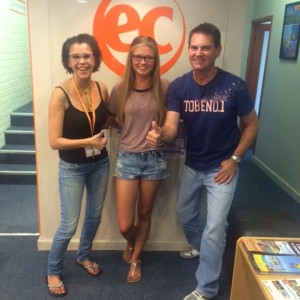 __________________________________
Remember to follow us on Facebook or Twitter
RELATED BLOG POSTS
Student's testimonial – Kokoro from Japan
Student that has come and gone
Comments
comments