Talal Abuzgia
From: Lybia
Level: Upper Intermediate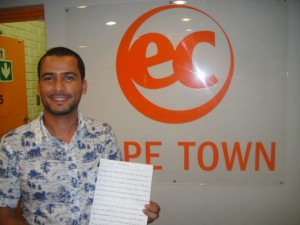 "I began to study at the school in December. The first day study at EC English was very interesting to me because I met students from many different countries, cultures and languages. But brought us one school, one language and the dream of learning the English language, it is really interesting to me.At the beginning of the study in elementary level I was scared. If I can learn English and speak out? But the existence of good teachers like mrs Kath and mr Nathim began to fear go away and began to believe in myself more and more, there were motivating students to study. After three weeks of study, I was able to pass the elementary level.
I thing the great transformation that happened to me was when I started studying on pre intermediate level with mr Daryl and mrs Guvra. They were actually the best teachers in my life. We were like one family, my colleagues and I in the classroom were a strong friendship bind each other to the point when a colleague was leaving us we felt very sad for the departing.
I felt much better in my English thanks to my teachers, where they encourage us to read newspapers, magazines and books, and listening to the radio and watching TV. I liked this way of teaching and it informed me a lot.
I am lucky I came to this school,. Where we learn the English and know the cultures of other countries and make excellent friendships with my colleagues and teachers. I advise all students to work hard if you want to learn the English language, the teacher does not have a magic wand. It was a great experience."
Want to know more about English courses in Cape Town? You can also follow us on Facebook!
Comments
comments