The EC experience of..
Harold Arteaga Sanchez
Level: IELTS
Country of Origin: Colombia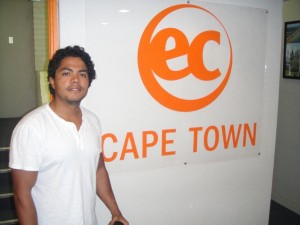 I am completing my English lessons at EC Cape Town where I found the staff very friendly, helpful and professional, always trying their best to assist students. The multicultural environment at EC helped me to communicate with others from many other countries, and my English skills improved quickly as we were all there to study English in South Africa. It was a positive and happy time.
I totally recommend EC English Cape Town because I was in a lot of institutes trying to learn English and I couldn't, and here was the first time that I really learned
In the class we have so many different activities. We have listening, reading, writing and speaking sessions. Each one is challenging, and we are split into different groups depending on our individual needs and which skills we need to improve. For example, I was in an IELTS group, casual conversations, grammar and listening, as well as general English, reading, idioms and job interview.
All the staff is excellent. They are always kind, and they give me all the tools to learn. We have a lot of tutors that help us all the time. In addition, we have a good teachers who knows our process and works with us as a class and individually. I have met a lot of different people. My classmates are from everywhere
I study Mechanical Engineering and journalism in Colombia. Before I came here my English level was very basic. Now I can go back to Colombia and finish my degree. I will have the ability to communicate in English in my country, and it will be an important advantage for me as a engineer.
Comments
comments