Finally I started my trip with my beauty! But before I could leave Cape Town I had to say goodbye to my friends from all over the world, so I offered them 30 liters of beer at the beerhouse! Afterwards we went to the club but my highlight was definitely the cigarette on the top of Signal Hill at 5 o'clock in the morning with my good friend anonymous. The police did a body check as well because they thought we are up there to take drugs. All in all, it was an interesting evening.  The cigarette completed the circle of my stay in Cape Town. Unfortunately, the weather was really bad on Sunday so I had to wait till Monday to start.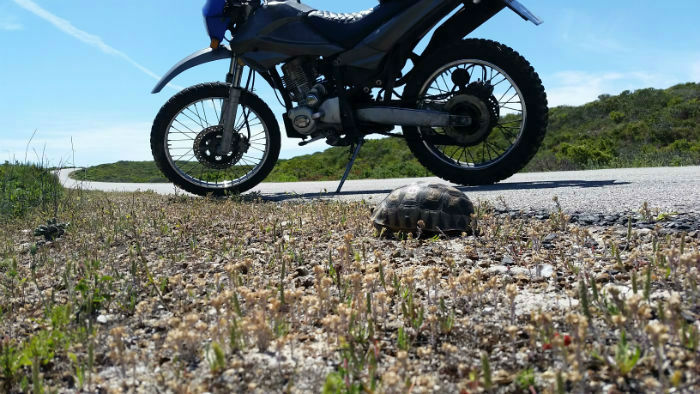 Monday, 2 November 2015
After my last lunch at Food Lover's Market and definitely ready to say goodbye, I jumped on my bike with my huge backpack and drove away. The first thing I realized after a couple of kilometres was that I wanted to say something to the students in Cape Town – you have to see beyond the city. Yes, Cape Town is beautiful and yes Lion's Head, Table Mountain and the sea are wonderful but please, please go to the countryside – you don't know what you`re missing.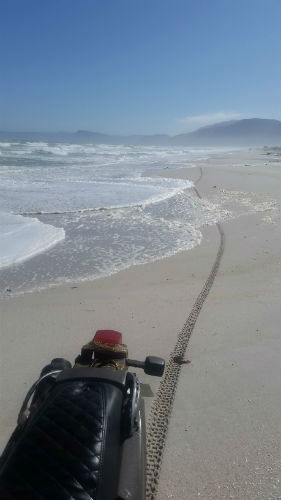 I saw wheat fields bigger than I could imagine, flocks of sheep with thousands of animals and from time to time a huge farmhouse with big machines,farmers and farm workers on the fields. All of this is 2 hours away from Cape Town It was breath-taking. I drove and drove and drove; with the music and GPS in my headphones and I felt free as the boy I was in my childhood. The first stage of my trip should have been Cape Agulhas, the most southern point of Africa. But everything changed.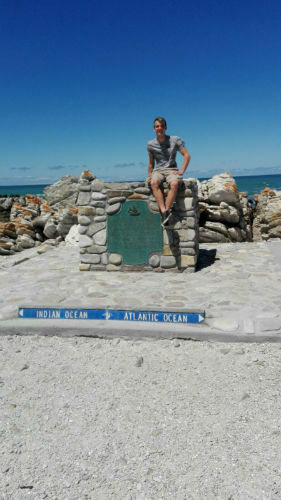 Suddenly my beauty made a strange noise and stopped working… First I thought I had no more petrol but after a couple of minutes I realized that the problem was bigger than this. So here I am, in the middle of nowhere, alone and with a lot of luggage. Fortunately there was a small restaurant (Van Brakel Stoor). In this uninhabited landscape and I went inside to ask for help. The people were really friendly to me and a man in his late 60's gave me a phone number of a guy in Napier. I called the guy and he said he did not work with this kind of motorbike. He called some of his friends and then he got a number from a guy named Frikkie. I wrote Frikkie a message about my situation and he said he could pick me up around 6 o`clock. It was 4.30 pm at this point but I was happy that I could get help… The Lady at Van Brakel Stoor told me that I should call her if he didn't show up or if I didn't know where to sleep. Also Martin, another guy who stopped at the store, gave me his number if there was an emergency. They were amazing. But Frikkie showed up around 7pm.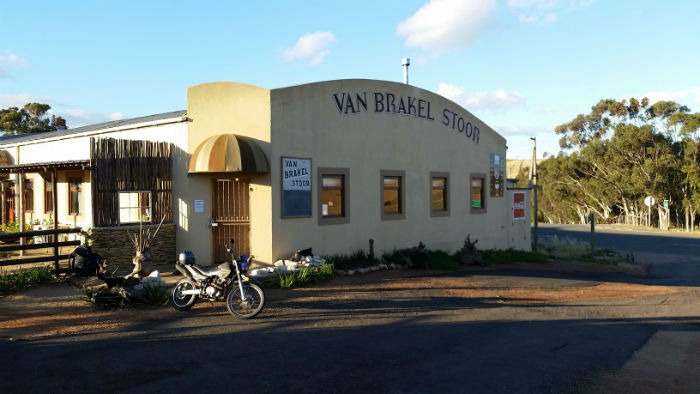 So, normally I am quite skeptical of strangers but I had no choice – I had to trust this guy `Frikkie`will help me, I thought. he eventually arrived and we went on his truck to his place. Literally in the middle of nowhere. At his place there was electricity in the kitchen and in his room the rest of the house was old. It`s his project, he says. I must say in the beginning I was a little bit afraid, I mean no-one knew where I was. But he was really friendly. He told me I could sleep at his place and I shouldn't worry about anything. So, we checked my bike and the shock went deep into my bones… it was destroyed! I lost all my oil on the way and then the motor just crashed. I stood there like a stupid guy – I didn't have a plan B or something like this… But we have a saying in Switzerland: when God closes a door, he also opens a window. So Frikkie had a lot of half- destroyed motorbikes at his home and one of these bikes was a beautiful Honda which a friend of his wanted to sell. We talked about the price and after 15 minutes we had an agreement. The only thing was that the bike needed a new battery which we had to buy in the city. But with the knowledge of a solution I slept pretty good.
Sandro left EC language school in Cape Town a few weeks ago and decided to document his adventures through the blog. We hope you enjoy his adventures as much as are! 
Comments
comments