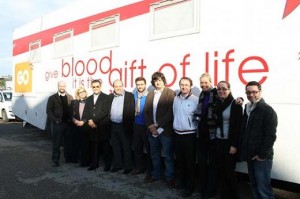 At EC, we invited a mobile blood unit down to our head office on 16 December so that our staff members could donate blood. By hosting a blood drive, we could donate simply and quickly. The mobile unit parked up close to EC, as a steady stream of the EC team, took the time out to give throughout the day. EC was joined by volunteers from other businesses in the neighbourhood.
We would like to thank the dedicated blood unit team for the great care and service they provided to all who donated on the day. We are proud to have been able to help out this important cause. Giving blood saves lives and helps the seriously ill. You can make a difference too!  Why not find out what you can do to give blood in your own area. It feels good to take  part.
At Christmas time, is there anything better to give than this life saving gift?
Comments
comments