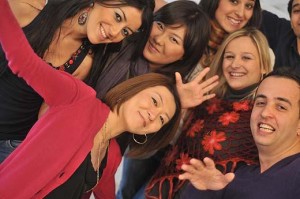 Take an IELTS exam preparation course that will prepare you for the IELTS (International English Language Testing Systems) test. This is a great test to take for anyone who wants to work or study in an English language environment.
IELTS is an international standardised test of English language proficiency. It's the world's most popular English language test for higher education and immigration. Most English learners take the test to enter higher education in a foreign country. The IELTS test consists of four Modules – Listening, Reading, Writing and Speaking.
EC London English language school runs a successful 4-week IELTS crash-course. This course is made up of 4 weeks of 30 lessons per week (1 lesson = 45 minutes). On this course you will learn all the English and skills you need to get your best possible score. You will learn how to take take the test – learning exam techniques is an essential part of your IELTS preparation. Your teachers all are all professionally trained and very experienced in the IELTS examination. They will monitor your progress and give you feedback, as well as giving you assignments to complete outside of the classroom.
EC London is an English school with a friendly atmosphere in the centre of London. Covent Garden is a very fashionable area in London's Zone 1 travel area. From there, all the major attractions are easy to reach. Our school has a diverse nationality mix so you will meet new, interesting people from all over the world.
If you want to really improve your English level before joining our IELTS course in London, you may combine your course with another English course at our school. Many of our students take General English or Intensive English courses prior to their IELTS course – it's a good way of building confidence and improving your English communication skills.
There's never a bad time to start this course – EC London has new IELTS preparation courses starting every Monday.
body{
font:12px Arial, Helvetica, sans-serif;
color:#666;
}
.tableHeading{
background:#FF9933;
color:#fff;
font-weight:bold;
}
EC London IELTS Preparation Course
Course Length
4 Weeks Intensive Programme
Level
Intermediate to Advanced
Lessons per Week
30
1 Lesson
45 minutes
Maximum in Class
12
Start Date
Every Monday
Course Price
Click here for the latest prices
Comments
comments