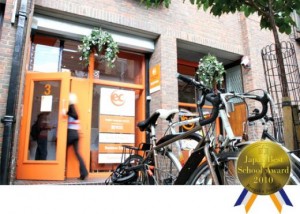 Top Japanese study abroad agents Ryugaku Journal have chosen EC London as the top English language school in the UK. Based on the reports of hundreds of Ryugaku Journal studying English around the world, EC London was chosen as the best UK school and seventh world-wide.
Schools were rated by students on the following criteria:
Teaching and Administrative Support
Lessons
Accommodation
Facilities
Environment
EC London also ranked third worldwide in the best school for Teaching and Administrative Support category .
At EC we are very excited about this award because it was voted for by students and it is the first of its kind to be sponsored by a study abroad agency in Japan.
EC London is located in a stylish building in Covent Garden. As well as having a good central location, it also has great facilities, which led to the school receiving a high evaluation from its Japanese students. EC London was also recognised for its good learning environment and relatively low tuition fees for English courses in London. In particular EC London is popular because of its discounts for long-term courses such as Academic Year Programme and University Access Programme. These discounts were considered as good value for money from students at EC London.
Comments
comments