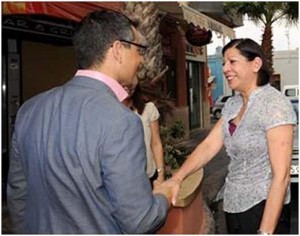 Taking an English course in Malta is a unique experience. Students enjoy a backdrop of unrivalled weather and stunning scenery while being immersed in the English language. As a bilingual country, students visiting Malta can 'live English' at all times. With all this appeal, it's little wonder then that every year Malta hosts in excess of 86,000 English learners from over 80 countries.
Malta has long strived to be a centre of excellence for English tuition, and with this in mind, Malta's Minister of Education and Employment, Dolores Cristina, recently visited EC Malta as part of her summer programme. The minister was welcomed by Andrew Mangion, EC's Executive Chairman, and the staff members responsible for ensuring that students have a memorable stay. Touring the school, the minister was able to see, first-hand, EC's facilities and learn more about the student experience.
Every year thousands of students attend EC Malta and this means more than just English classes. As well as providing quality academic programmes, EC also organises accommodation and all sorts of social activities for both adult and junior learners. As you can imagine, it takes a well oiled machine to make sure that everything runs smoothly and EC meets students' expectations.
EC sees this ministerial visit as an acknowledgment of the contribution the school makes in attracting visitors to the island every year. We are proud to be able to promote Malta while giving students the opportunity to get to know the country and its people.
Comments
comments