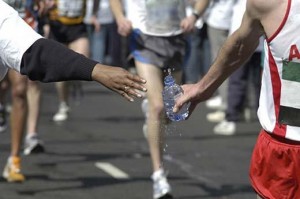 EC's Michael Dewar is taking up a worthy challenge, he's running the 2011 London Marathon for charity.
Being a Londoner, Michael had always enjoyed watching the race while being semi-curious to take part.
After successfully finishing a half-marathon in Madrid last year, Michael has been hard at work training for London's 42km course.
On 17 April, Michael will run on behalf of the charity LEPRA. LEPRA Health in Action currently works in some of the most deprived areas around the world. The organisation runs a broad range of projects across nine countries to fight diseases of poverty. With total support from all of the EC family, Michael hopes to raise £2750 and awareness for this great charity.
The London Marathon is one of the biggest running events in the world, and is one of the five top world marathons that make up the World Marathon Majors competition. In 2010, 36,549 people crossed the finish-line, the largest amount since the race began.
Join us in wishing Michael all the best on his run.
Support Michael here
Comments
comments