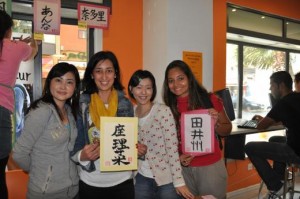 Staff and students at EC Malta joined forces to raise funds and show solidarity for the Japanese people in the wake of the recent tragic disaster to hit the country.
EC's Malta school reception area became packed full of supporters as some of the most wonderful and varied aspects of Japan's culture was celebrated.
The turnout was overwhelming as teaching and administrative staff and students from all over the world pulled together to make it a fantastic afternoon. Over 1,000 Euros has been raised so far with further events organised to increase the proceeds. EC have promised to double the total amount received.
An EC student and graphic designer in his home country of Japan, Tsuyoshi 'Go' Akiyama, designed a huge display where people could leave messages for Japan. Throughout the afternoon, words of support covered the display, in different languages from all over the world. A huge banner was also pinned to the wall that was sent all the way from students at EC's New York centre.
Bustling crowds gathered around a buffet where Japanese and Maltese cuisine also stood shoulder-to-shoulder. Zen restaurant also sent their top chef free of charge to offer his sushi-making skills.
A stall was set up where people could have their names written on a poster in Japanese calligraphy in exchange for a donation. A basket of tiny origami cranes were also folded especially to sell at the fundraiser – traditional Japanese symbols of long life, peace and prosperity.
EC student Neziha Eyilmez was one of the many international students to attend the fundraiser. She said, "I am from Turkey but I really care about what has happened in Japan. I have seen such terrible pictures on the internet so I came here today to give my support."
Another attendee was EC student Ryuichi Horishita. Ryuichi is Japanese but fortunately his friends and family live far away from the disaster zone in Kyoto. He said, "I was in London when I first heard about the earthquake. I wasn't worried because in Japan we have earthquakes all the time. But when I realized how big it was, I wanted everyone to know and to help by donating their money. I organised an event similar to this in EC London so I came here today to show support for what EC staff and students have done today"
Chief organiser of the event at EC, Haruka Nakamura, said, "We never knew how this event would turn out. I encouraged everyone to participate and hoped there would be enough attendees, but never imagined this many people! I'm so proud of everyone for their hard work and support, and delighted with the results."
Desiree, who has been a teacher at EC Malta for five years said, "The team here have done such a remarkable job. We all feel so touched to have seen this fantastic turnout, and it's been wonderful for staff and student relationships as they work together for this important cause."
Thanks to everyone who took part!
---
UPDATE 21/4/11: Through this event and others organised we managed to collect €1253.
Comments
comments