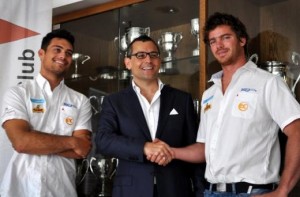 We are very happy to announce that Seb and Benji's Malta 49er team are taking part in the first 49er class of the European Extreme Sailing Series (ESS).
The boys will be one of eight teams competing in race meets in the UK, Italy, France and Spain.
As exclusive sponsors of the Malta 49er, the team will be known as Team EC for the ESS series
The 49er is the two man high performance dinghy of the Olympic Games. Making its debut at the 2000 Olympics, the 49er quickly gained a global following due to its high speeds, and exciting racing.
Seb and Benji are two young Maltese sailors who are ultimately working towards representing Malta at the 2012 London Olympics.
Andrew Mangion, EC's Chairman stated 'We have been a sponsor of the Malta 49er team for the past year, and we've offered our support to get them to the ESS as it will enable them to compete at the highest level. This will be a fantastic opportunity for them to hone their racing skills over the coming months, and raise the profile of the Maltese sailing community on the international stage'.
We admire their efforts and we find determination to succeed in such a competitive and demanding field very inspiring.
At EC we all take pride in being able to help them achieve their shared goal.
Join us in wishing them good luck at the ESS and beyond!
===
Find out more about Sailing Courses in Malta
Comments
comments