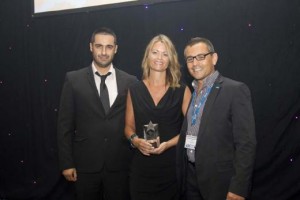 EC has been voted 'Star Chain School' at the 2011 Study Travel Magazine Awards!
This award is given at an international award ceremony which takes place every September in London. We were voted Star Chain School by the thousands of people who work in our industry.
The Study Travel Magazine Awards are the Oscars of the language travel industry, recognising excellence and achievement; winners are chosen by consultants, staff and specialists employed in the business from all over the world. Voters rate schools on the overall service they provide including classes, school facilities, accommodation and activities.
Winning this award is a huge honour and shows we provide the highest quality of service and programmes to our students.
Study Travel Magazine is the biggest publication for the study-abroad sector of the travel industry and it covers language learning abroad, work experience, and volunteering. The magazine is published monthly for the study-abroad professionals and educational consultants in more than 110 countries worldwide.
Since 2007, we have been finalists seven times in different categories, winning STM Star Innovation of the Year Award in 2009 for our EC Malta Freestyle Programme, and once again in 2010 for our Club 30+ Programme.
It's taken us many years of hard work to get here and we promise not to stop; we will continue to improve the service we offer our students. We want you to have the best possible experience when you come and learn English with us.
Comments
comments