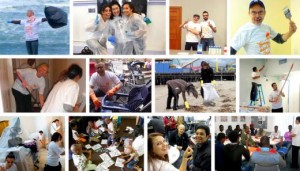 Our first EC Community Day was a huge success! EC students and staff at our 15 schools volunteered their time and energy to a variety of good causes, with each centre doing something unique and special in making positive contributions to local communities.
The past few years have been very busy for EC: new schools have opened in cities across the world, giving our students new opportunities to travel, integrate and have unforgettable experiences. In such forward-thinking times, it's important for us to take a moment to consider our place in the world, and to think about how we can give something back to the local communities that welcome and host thousands of our students every year.
As well saying a big 'thank you' to the cities and communities that take such good care of our students (and the chance to do something worthwhile),  the day was also dedicated to the memory of Frederic Gonzalez, Centre Director at EC Boston, who sadly passed away in 2008.
At EC, we are committed to giving something back to the communities in which we live and work. Here's what some schools did on our inaugural 'Giving Back For Fred Day':
Malta: held classes for 71 asylum seekers who voluntarily enrolled to learn various skills to help them better integrate into Maltese society.
Cape Town: visited the Barcelona Children's Home where staff planted vegetables and maintained the existing vegetable garden as well as read stories, played games and made crafts with the children.
Bristol: Spring Fair with games and activities to raise money for UK homeless charity Shelter. Events included sponge the teacher, tug of war and an egg and spoon race.
New York: handing out food at a food pantry.
Boston: cleaning up at the Boys & Girls Club, an organisation which offers after-school programmes to children and teenagers.
Miami: joined Miami's City Serve project and spent the day doing manual labour including painting walls in a special needs school.
Los Angeles: Santa Monica Beach Clean-Up Day
San Francisco: coast clean up. A day spent collecting litter from the beach.
San Diego: students and staff joined the Surfrider Foundation to take part in cleaning up at Ocean Beach, Sunset cliffs.
Montreal: cleaning up and helping out at the local Salvation Army branch.
Vancouver: three activities! Staff volunteered at a transition house for abused mothers, a centre for substance abuse, and fundraising for a cancer charity. Great work!
Comments
comments