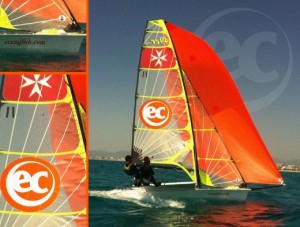 Only five places remain in the 49er category for this summer's London Olympics, and EC sponsored Malta49er is at the final qualifying event in Croatia.
It's now or never for sailors Seb and Benji as they look to book their place to compete in the world's largest sporting event. At this moment they stand in sixth place behind Bermuda, Japan, Italy, Canada and Greece. With only five nations qualifying, Malta49er must finish in the top-five or else they won't be going to London.
All the years of hard work, preparation and competing at international events has brought them to the verge of qualification.
Who would have thought that two young sailors from the small island of Malta could take on the best in the world and get within touching distance of their dream?
These guys are an inspiration to us all and a reminder of what we can achieve by focusing on your goals.
Seb and Benji don't quit when it gets difficult, they have the confidence to do what probably many people told them was impossible.
Think about these two young men as you journey towards you own English-language goal.
If they can follow their dreams, so can you.
Comments
comments