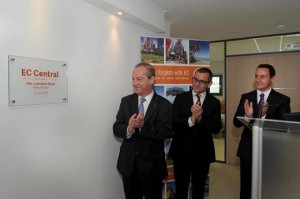 EC's new head office, EC Central which is close to our English school in Malta, was today visited by Maltese Prime Minister, Dr Lawrence Gonzi.
The visit started with Dr Gonzi being given a tour of our modern premises by Executive Chairman, Andrew Mangion, before unveiling a commemorative plaque. Dr Gonzi, who chatted with staff as he toured the various areas, closed his visit by giving a short speech praising EC's achievement in growing from its humble beginnings to being one of the world's most-respected chain of English language schools. As the Prime Minister stated, "We are today celebrating the success of a Maltese company that has evolved into a global success story."
EC started in Malta as one family-run English school in 1991. Today EC is made up of 15 international schools, which in 2011 taught English to 40,000 students!
Students come to our award winning schools from over 120 countries around the world and 97% of our clients would recommend our schools to their friends.
The Prime Minister is no stranger to EC as he inaugurated EC New York, our English school in Manhattan, in 2009.
At EC, we take Dr Gonzi's visit as recognition of all hard work and commitment we put in to giving our students the best possible study-abroad experience.
We thank the Prime Minister for taking the time to visit our new Head Office and meet our team.
Comments
comments