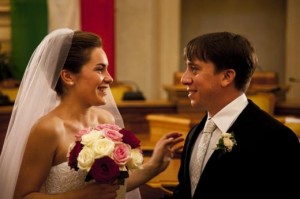 When students come to EC they usually travel alone because they know they will meet interesting new people on their course. At any EC English school you will make friends with students similar to you – you can connect with people who love English, travel and trying new things.
When EC student, Umberto, visited EC Malta English school from Italy every year, he knew that he would be having a great time, improving his English and sharing fun experiences with his new friends.
What he probably didn't expect, on his trip in 2007, was to meet his future wife!
Here Umberto talks to us about his experiences as an EC student and how he met the love of his life!
---
Where are you from in Italy?
I'm from the north of Italy; the city is named Reggio Emilia close to Bologna.
Where is your wife from?
My wife is from St. Petersburg, Russia.
What course did you do with EC, how long was it for? I believe you came every year 2004- 2005 -2006 and last in 2007 of when you met your wife to be.
I studied English at school in Italy for 6 years 2 hours a week but I had no feelings with both my teachers in Italy so I couldn't communicate in English. In 1999 I was in Brighton for 3 weeks but I cannot say I've learnt English there because I used to go out only with Italian guys.
I came first time to Malta in summer 2004, and I studied for about one month to EC. I started from the easier level you have I guess in the school because I wasn't able to speak English at all. I came to Malta because I had lost my first job of mechanical designer because of firm crisis. I was upset and I thought it could be useful to me having a break from working and go abroad in order to improve my English. I was thinking about going to London but a colleague of mine suggested EC Malta English school because we were close to summer so instead of rainy London I chose the sunny Malta.
It has been one of the best decision in my life coming to Malta because I could find the perfect match for me between studying and enjoying, accelerating I think, the learning process. After one month I was able to communicate a little bit. Differently from Brighton 1999, my friends were from all over the world because I was different from some years before and wanted to see different cultures.
One of my last days in Malta, in September, I found a textile pen in my luggage and I suddenly decided to make a special present to remember Malta. I draw an old t-shirt in order to check if I was still able to draw well, after so many years studying engineering. I liked it and I did the second t-shirt and the third. My first t-shirts I didn't sell because I was attached to them. I still have some of them in my wardrobe. Later I understood that the satisfaction for my heart to see a friend or a tourist wearing happily one of my t-shirts is worth more than collecting the t-shirts in my wardrobe!
I came back to Italy and found a stage opportunity connected with the last part of my degree.
In 2005 the present for my graduation was really great!!! An open ticket to Malta from my friends! I came back to Malta, found an agreement with a seller and painted many t-shirts during the whole summer. A couple of evening a week I also used to serve as a waiter in one of the best places I had ever seen. The Bedouin Bar! I loved it and it was so relaxing to lie close to the sea drinking and listening music smoking hookah.
In 2006 I came back to Malta just 3 weeks in summer because I was working as engineer in Italy. I studied at EC school for 3 weeks improving from intermediate to upper intermediate.
In 2007 it was my last time in Malta. Differently from the past I booked another English school instead of EC but after 1,5 weeks lesson I gave up, I left that school and came back to EC and booked with you. I remember it was the 28th or 29th of July when I came back to EC and someone told me there was the boat party to Comino by Night. I had been to Comino by Night already a couple of time but I decided to go there in order to enjoy and forget about nostalgia about Bedouin Bar, Montrose Guest House host family (retired), and friends from years before in Malta.
I was wearing the t-shirt number 137 the 29th of June 2007 when I met Nadia and some months later she told me she noted me also because of the extravagant pink t-shirt I was wearing that evening.
Why did you choose to come to Malta?
Because a colleague of mine told me better than London especially summer and good English schools too.
Was Nadia doing a course with EC as well when you met? If not, why was she in Malta?
Yes, she was a student of EC school for three weeks. She went to Malta because her mother saw an advertisement from EC school on the San Petersburg underground.
When and where did you get married?
We got married last July in Reggio Emilia.
Comments
comments