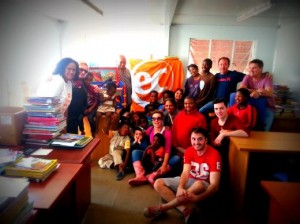 Several centres have embarked on long-term initiatives that give back to the local community by doing what we do best – teaching! Here are some of the amazing things that have been happening.
EC San Francisco is helping students from the Mission Dolores Academy (which provides education to children who live in communities that have low-performing public schools and come from low-income families) to stage a production based on the children's book 'Mostly Monsterly'!
EC Cape Town is working with the Barcelona Orphanage in Gugulethu Township, and over the last 6 months staff have accomplished some amazing things.
For Christmas 2012, staff put together a shoebox of gifts for each of the children, in February and March EC students were taken to the Orphanage to play, interact and have lunch with the children, and in April staff & students opened a mini-library at the orphanage.
EC Malta is working with the Open Centre for Refugees, and staff have been teaching lessons in English to help the refugees with their integration into a global community. Each student receives an EC Certificate and extra learning materials to help further their English studies.
EC Brighton is working with the Refugees & Migrants Community Safety Team at Brighton City Council to deliver a variety of lessons to Brighton's refugee community.
"I'm really enjoying coming to the speaking classes at EC."
Magda (Student)
"Thanks for organising this course – we are really grateful for the opportunities this will give to our students."
Tara (City College Brighton teacher)
EC Boston launched their US Citizenship classes for immigrants in March, helping those on their way to becoming American citizens develop their English skills for the naturalisation test.
"These citizenship classes are important to the people of Boston as oftentimes immigrants do not have enough knowledge of the English language to successfully go through the naturalization process."
Ken (EC Boston teacher)
EC Toronto and EC London will be starting their projects later this year, while other centres will start projects in 2014. Watch this space!
Comments
comments