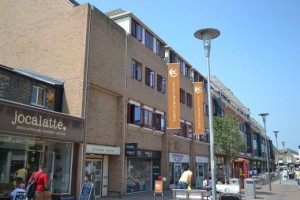 New Address EC Cambridge Gibson House 57 – 61 Burleigh Street, Cambridge, CB1 1DJ
EC Cambridge is moving to a new school building in the centre of the city!
The new centre will open its doors to students on 2nd September 2013. EC Cambridge has always been one of our most popular schools, and our current building was not big enough to take all the students who wanted to learn English in Cambridge.  A move to a bigger, more modern schools means we can help more students improve their English in this wonderful city. Spread over three floors, the new EC Cambridge has:
14 bright classrooms that seat up to 14 students each
Interactive whiteboards
Computer lounge
Wi-Fi throughout the building
Lounge
Same great teachers and quality service!
Burleigh Street, the new home of EC Cambridge, is busy with cafés, bars, restaurants, and shops.  Also, with the Grafton Shopping Centre just across the road, and the colleges of Cambridge University a short walk away, you will experience Cambridge life to the full on the doorstep of your new school. We look forward to welcoming you to our new school and helping you improve your English. Contact us for more information about EC Cambridge or get a free quote.
Comments
comments