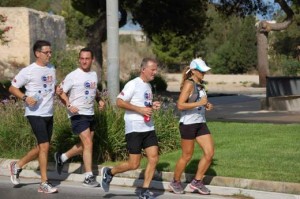 What was EC's own CEO, Michael Xuereb (second from the left), up to last Sunday, the day of rest? Take a guess…
Full English breakfast in bed
A brisk walk along the promenade, or
An end of summer swim…
None of the above!
He woke up to a 51 k run (!) in aid of The Ladybird Foundation (www.theladybirdfoundation.org), an honourable cause which gives terminally ill children a last wish.
Now, isn't that just admirable? Here are a few words from the brave man himself:
What keeps me going is the purpose of this run, which is to give children with terminal illnesses a last wish. The funds are given to underprivileged families who do not have the means to take their child on that last holiday – whether it is Disneyland or to watch their favourite sports team.
What's more, Michael and his four friends created a site to make it easy for people to donate: http://www.donationto.com/The-Ladybird-Foundation. EC Malta and EC Head Office also showed their support by organising and attending a charity walk to help raise more funds.
Well done to all those who walked, ran or contributed to the cause, and kudos to Michael Xuereb for such a fantastic feat!
More photos taken at the event can be found on the foundation's own Facebook page: https://www.facebook.com/TheLadybirdFoundation.
Comments
comments