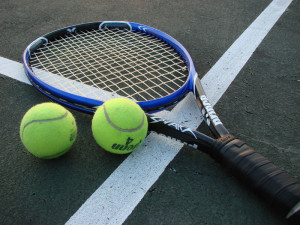 Some say that tennis is the world's greatest sports and no other tournament embodies that truth as much as Wimbledon. Some tennis terminology seems weird, it's English but where does it come from? Here are the top 3 tennis words explained!
It is estimated that 378 million people from all over the world tune in every year to watch this sporting event – that's just a little more than native English speakers around the world. Like every sport, tennis has its own terminology. Words such as LOVE, DUECE and ACE are constantly used during a tennis match. But what do they really mean, and where do these words come from?
Love
Even though no one is really sure how the term LOVE came to mean zero in tennis, one assumption is that it originated from the French word 'loeuf' which means egg. Pronounced correctly 'l'oeuf' sounds similar to LOVE. And the egg, which looks like a zero, could have been used to describe a zero written on a scoreboard.
Deuce
The word DEUCE comes from 'à deux le jeu', also from French, not surprising as the game was invented in France. It means "to both is the game" or that two players have equal scores. Deuce can also mean something represented by the number 2 like dice or a playing card.
Ace
An ACE, also used in playing cards as a noun to describe one large figure in the card's centre, is an English word that can be used in many different ways. In tennis, it is used to describe a point scored on a serve that an opponent fails to hit. However, in everyday spoken English it can be used as a verb to describe a person who gets a very high grade or performs very well on a test.
How can you use these words when talking about tennis? Here are a few examples:
After the first serve the score was 15 – LOVE for John.
Mary was able to come back and now the score is DEUCE.
Jimmy served a beautiful ACE to win the game.
---
Are you thinking of booking a language course in the UK? EC Language Centres is located in London, Oxford, Cambridge, Manchester, Bristol and Brighton! For more useful tips, download our 'How to Choose an English School' guide to help you to take a decision.
[hs_action id="1321″]
Comments
comments