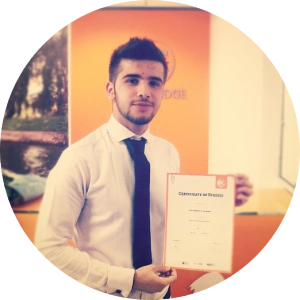 "Hi everyone!
I have been at EC Cambridge for almost one year and I can't believe that it's now my time to leave this place where I have experienced a lot of wonderful and
unforgettable moments.
I studied Cambridge IELTS in order to pass the IELTS exam. I came here with very little knowledge of English. Therefore I started with one of the first levels, Elementary. With the motivated and patient teachers, who have a lot of experience, I improved my English skills considerably. I was very happy with my progress and proud of myself that I achieved at least the Pre-Advanced level!
I definitely recommend EC Cambridge because no matter which level you are in, the teachers are always focused on developing your skills, and the exam preparation courses for FCE/IELTS/CAE are highly successful. The school is very well organized by efficient staff. I will never forget the friendly and helpful staff. They are there for you all the time and if you have any problems, you can always go to the 3rd floor and speak to them. They try to make you as happy as possible and I always felt comfortable.
You have a variety of activities in Cambridge for your free time. You can join EC activities such as bowling, visiting colleges, punting and meeting other EC students. There are plenty of places where you can chat with your friends: cafes, pubs, restaurants and beautiful huge parks like Parker's Piece and Jesus Green. You have many opportunities to do sport – activities like football and tennis, and visit gyms as well, but you will never get bored with your new friends.
I also improved my English very well with a lot of friends from different countries. I had the experience of living in a host family and in different student houses as well. It was the best time for me to share the residence with EC students. I can't believe that this time is over now. I experienced so many memorable moments there.
When I first came here, I couldn't imagine how hard it will be to say goodbye to all of my lovely friends, to the amazing staff at EC Cambridge and to the wonderful city. I will really miss all of you and I would always come back to experience this time again. Thank you for everything!"
Do you have a success story to share? Contact us by sending an email to ecteam@ecenglish.com. Tell us about your EC experience and inspire others to learn English and open up a world of opportunities!
[hs_action id="1321″]
Comments
comments