The following are some locations or activities that can encourage you to read, speak English in social situations and enjoy new experiences in the company of English speakers.
1. Visit the Bibliotheca in Valletta
Whenever the hustle and bustle of Malta becomes too much and you crave a spot of quiet, the National Library (Bibliotheca Melitensis) 36, Old Treasury Street, Valletta is the perfect oasis. Walk through the big wooden doors and up the staircase to the top floor researchers' area where you can give your details in return for a researchers' identification card (have a passport or ID card ready). Enjoy being surrounded by the beautiful floor to ceiling collection of Maltese books, the grand architecture and of course the silence. There is free Wi-Fi in case you miss the crazy world outside.
Open Monday to Friday: 08:15 hrs – 17:00 hrs and Saturday: 08:15 hrs – 13:15 hrs from1st October till 15th June and Monday to Saturday: 08:15 hrs – 13:15 hrs 16th June till 30th September.
INTERMEDIATE LEVEL TIP: Ask a librarian to guide you through the library reference system and perhaps recommend a book you might enjoy leafing through.
[hs_action id="1591″]
2. Go trekking with Experience Adventures
Make Sunday mornings active by joining a trek organised by Experience Adventures and More and make new English-speaking friends. Treks are usually easy to medium difficulty and start at around 8am on Sunday. Big groups attend, making this a great way to get to know new people and practise your English while you walk. You also get to experience parts of Malta that are a little off the beaten track. 'Like' the Experience Adventures and More page on Facebook to stay updated with their upcoming events.
INTERMEDIATE LEVEL TIP: Research some information about the place you will be going to and engage in a conversation about it.
3. Ask for directions
Given that place names on road signs are in Maltese and signage is rather sparse, you will probably need to ask for directions often during your Malta adventure. Since practically everyone in Malta speaks English, this can be a great way to strike up a conversation with a local and perhaps get a few insider tips on the surroundings.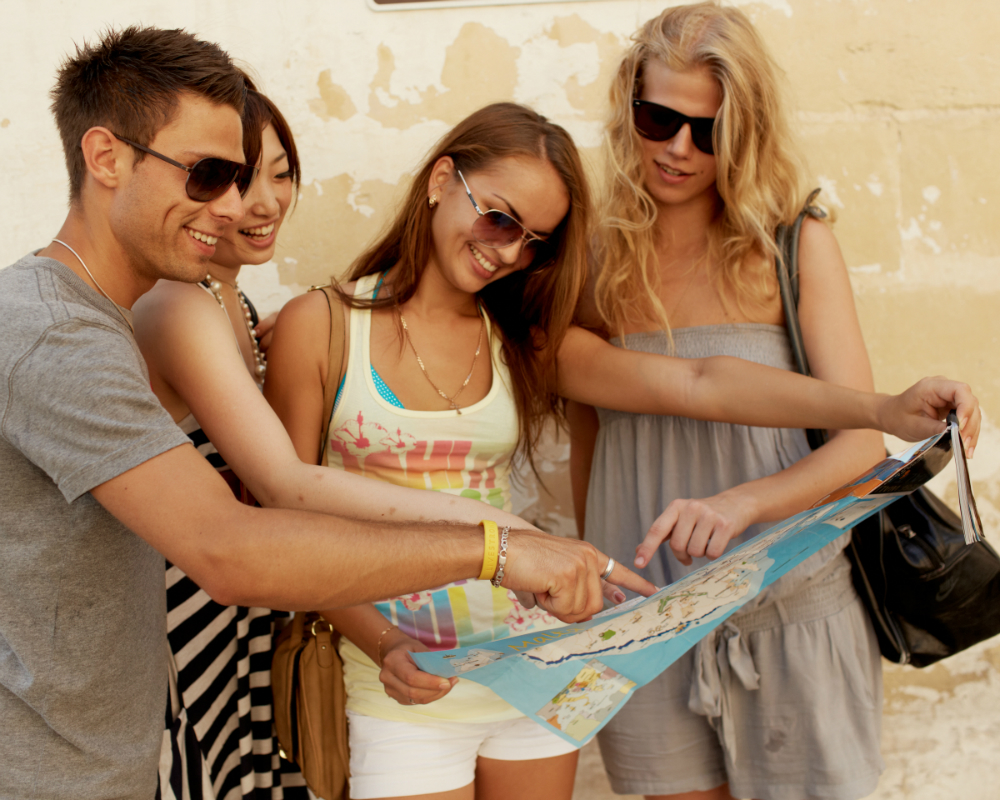 BEGGINER LEVEL TIP: Ask locals for their favourite café or restaurant nearby and to tell you why they like it. This will point you to the places loved by locals rather than those targeted at tourists.
4. Join a Sports Club
Joining a sports club is a great way to make new English-speaking friends, try new fun activities and keep fit in the process.
With Malta's beautiful rocky landscape, rock climbing is an adventurous pastime that brings you to the Island's most beautiful and often hard to reach locations. Climbing combines concentration with mental and physical exercise and can be as useful a self-development tool as it is a strength-building activity. Malta Climbing Club is a great place to learn the ropes and meet up with fellow climbing enthusiasts of all levels.
Fancy something to help you eliminate stress? Rugby is surprisingly popular in Malta with several budding clubs holding regular training sessions and a healthy national team. Valletta Lions Rugby Club may be a good place to start. They have a youth nursery and a Women's Team, ensuring there's an opportunity for everyone to join in.
5. Play Boċċi at the Bugibba Boċċi Klabb
Learn to play the traditional Maltese game of Boċċi where the objective is to get your team's balls as close to the smaller jack ball as possible. Usually popular with older men in village centres, the Bugibba Boċċi Klabb & Diner has managed to make the sport popular with younger players who often meet to compete fervently over a couple of beers and generally hang out. The Club is a regular haunt of British expats making it a particularly good place for language practice in a fun atmosphere. Found on Islet Promenade, Bugibba and open Monday to Sunday: 09:00hrs till late.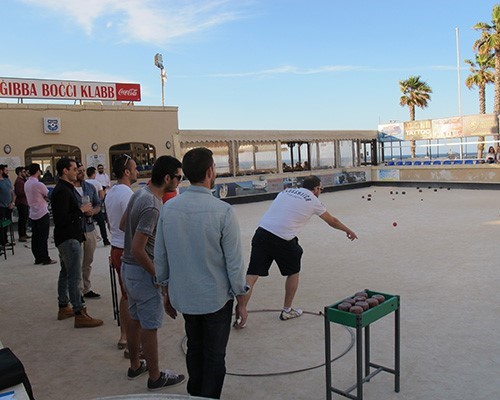 INTERMEDIATE LEVEL TIP: Ask Joe, the owner, to teach you the rules of Boċċi and challenge yourself to explain to your friends how to play, in English.
6. Watch an English film at the cinema
Films can be a great way to polish your language skills whilst being entertained. Malta has several permanent cinemas as well as some pop-ups that mostly spring up in the summer months:
Eden Cinemas: Located in St Julian's, Eden Cinemas are Malta's largest with 17 screens that include supersized Cinema 16 with a T.H.X sound system. Type of films: Mainstream blockbusters, including 3D. Some independent, experimental and foreign language films are also screened (http://www.edenculture.com.mt/sidestreetfilms.html)
Embassy Cinemas: Found in Valletta, Embassy is a smaller cinema found on the top floor of a shopping complex. Type of films: Mainstream blockbusters.
Empire Cinemas: Located in Bugibba this is the northernmost cinema in Malta. Type of films: Mainstream Blockbusters, including 3D.
St James Cavalier Cinema: Found within this Valletta centre for art and creativity, this one screen cinema shows independent films and play / opera screenings from major theatres worldwide.
Tal-Lira Cinemas: Located in Fgura, Tal-Lira Cinemas are part of a chain of bargain shops. They show slightly older blockbusters at bargain prices.
Kinemastik: Pop-up film club at the British Legion in Valletta (111, Melita Street) and yearly film festival showing indie and arthouse films. Check website or Facebook page for titles and locations.
Would you like to check more suggestions of the best ways to experience the island? Download our guide now for FREE!
[hs_action id="1591″]
Comments
comments