2020 started with ceremony in EC Vancouver as it saw the official opening of our brand-new school, EC Vancouver 30+. This vibrant, cosmopolitan and thriving city is the ideal destination for your English language course as it combines all that famous Canadian friendliness and welcoming spirit with an active, fulfilling schedule. What could be a more inviting prospect on your English learning journey?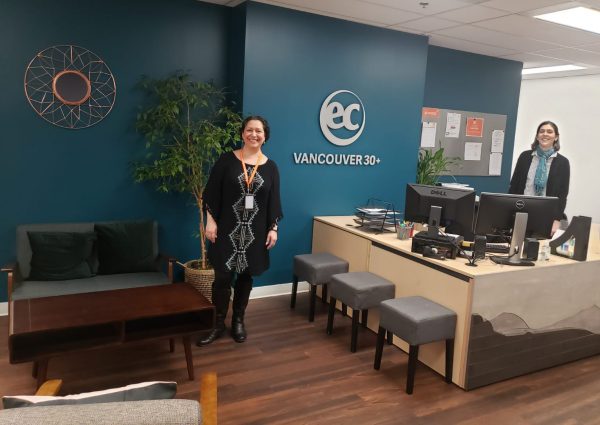 Inauguration Day
On January 8th 2020, our sixth 30+ school held its inauguration. All the admin staff, the wonderful teachers and, of course, the first group of students at the school were invited to the event. To add some extra special touches for the occasion there were some themed cakes and glasses of bubbly for all to enjoy. Martine Mangion, the Director of Operations for North America made a guest appearance and said a few words about our new school.
"On behalf of EC English we are very excited to inaugurate our 30+ centre in Vancouver. It's the first one on the west coast. We look forward to welcoming students in 2020" – Martine Mangion, EC Director of Operations for North America .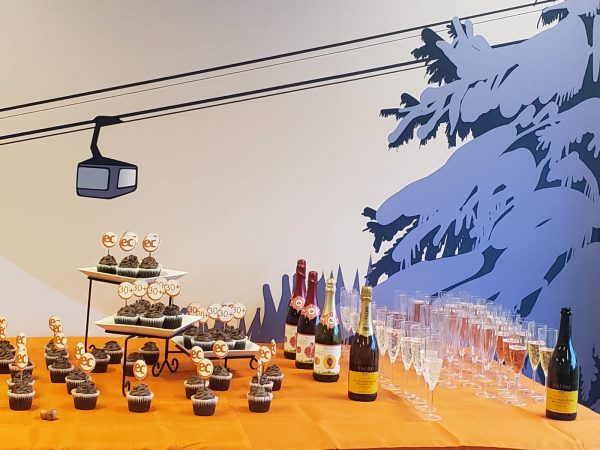 Bespoke Interiors
Each EC English 30+ school is individually designed to represent the destination. For EC Vancouver 30+, this was achieved by reflecting the outdoor beauty that surrounds the city. During an Instagram Live broadcast, a tour of the dedicated 30+ classrooms showed guests this unique artwork on the walls. One feature wall displays an image of a climber scaling a mountain. This is perhaps the most iconic representation of this city nestled between mountain and sea on the west coast of Canada.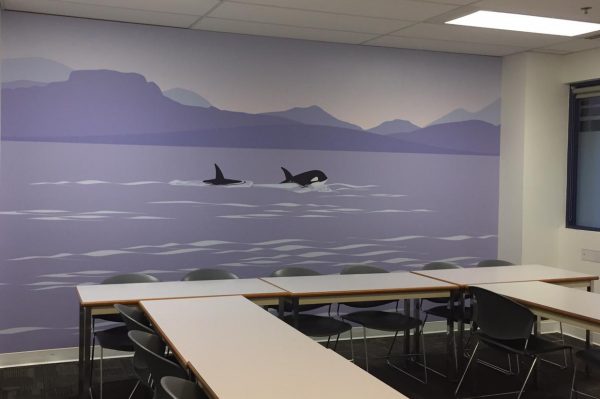 Other rooms boast artworks of a skiing scene, a dense forest with totem pole to represent local trekking spots, a lagoon with whales for the abundant marine life in the area, and kayaking, one of the favourite sports of Vancouver. You'll notice the unique creativity throughout as even the gorgeous mountain themed reception desk was custom made by our very own talented staff member, Leanne, and her partner!
"EC Vancouver 30+ is especially designed for more mature students. We have custom-designed the spaces to bring some iconic areas of Vancouver inside the classroom, aiming to create serenity and a nice, warm environment. With this we strive to help our students learn better." – Martha Delgadillo, Centre Director, EC Vancouver 30+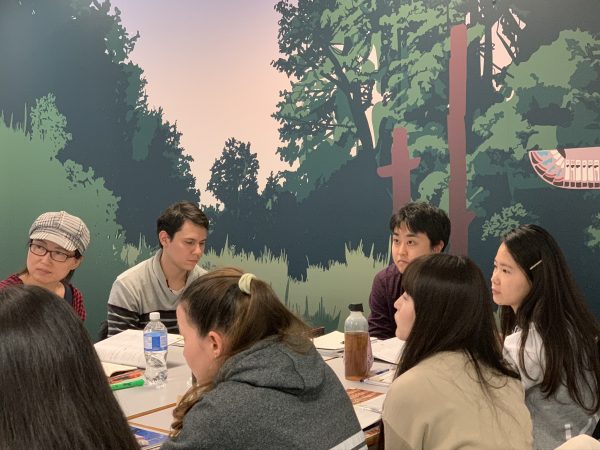 All About the Students
It doesn't end with the classrooms, as there is also an exclusive 30+ student lounge. This is a feature of all EC 30+ schools, as we want to give these students a space of their own to network, to study, to engage in conversations outside the classrooms with their peers. These lounges are also the ideal place to work if you are doing so remotely while studying English here. In addition, the activities provided by the school are an array of educational and social events. From Conversation Club and Extra Help Club to Jazz Evenings at the Parlour and weekend trips to nearby such as Seattle in the US.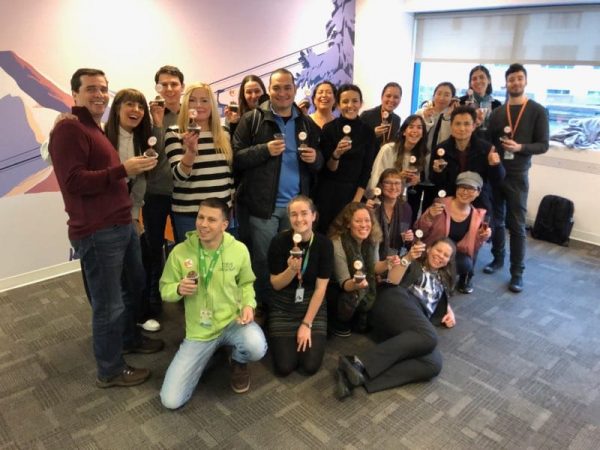 As the first week came to a close here, one of the students had a few words of her own to contribute to her EC experience: 
"Hi from Germany. When I booked my English course at EC Vancouver, I couldn't ever imagine what would await me there. I am totally amazed about the whole team and the quality of the teaching methods. The teachers are full of energy, fun and motivation. The staff are always going around entertaining you, always joking with a smile. Additionally they can be proud of their perfect service with free tea and great interiors. I would love to stay longer. They earned a really big fan from Germany." – Lola Seemann, student at EC Vancouver 30+
If learning English in Vancouver has been on your to-do list, then we say, "there's no time like the present!" Check out the courses we have on offer and make those dreams come true.


Comments
comments