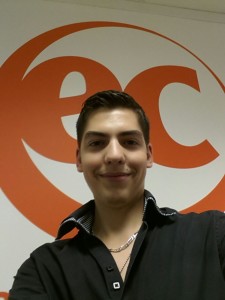 Working as Intern in EC Covent Garden 30+ has been an amazing experience. I was delighted to work with in a team who live for their job with passion and involvement. To work every day with the staff, the teachers and the students was really enthusiastic and I thank each one of them for the attention they gave me. In EC, I discovered how an English company works and how they create dynamics in daily life. It was also an amazing opportunity to be immersed in the English culture and to improve my English a little bit more each day.
EC Covent Garden 30+ really knows how to provide both a professional teaching and a familiar atmosphere for the students in the same time. The school is continuing to share the knowledge from amazing teachers and the staff is involved in making to make the students comfortable and happy every day.
I am proud to have worked in EC Covent Garden 30+ and wish the best to this school which gave me the wonderful opportunity to live this experience.
Clement Domeizal
Comments
comments