By Ayan Ali
Since you've been studying English, your speaking and writing has probably been corrected many times by your teachers. But how many of those corrections do you remember later? Do you make changes or do you still find yourself repeating the same mistakes and getting frustrated?
Errors are a normal part of learning English and it happens to absolutely everyone. It's true that you have to take risks and make mistakes so you can learn. But you can help yourself improve faster by keeping an error correction diary and making notes whenever your teacher, host family, friends etc. correct you.
Write down the following:
What you said or wrote originally.
The correct way to say or write it instead.(For higher level students, what you say might be correct but not very natural or efficient so you can still improve your English by finding a better way to say it.)
Why it's a mistake.
It could be a grammar, vocabulary or pronunciation error. Here are some examples from one Spanish student who kindly allowed us to share some pages from her error correction diary. You can buy a special notebook just for errors like this student or use the back of your class notebook.
If you don't have time, write what you can in the moment and leave space to complete all 3 steps later.
Over time, you may notice a pattern in your errors e.g. the same sound or tense. Then you can do some targeted practice to improve this area (e.g. grammar exercises) or ask your teacher for help and advice.
Try to self-correct whenever you notice yourself making this mistake in conversations and look for these specific mistakes when you edit or proofread your writing. It takes time and discipline, but it's worth it!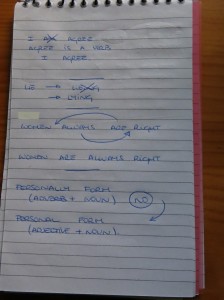 An error correction diary can help you make the most of your General English or Academic English course because it is personalised and you literally take the learning with you when the course is over. It will also give you a sense of achievement when you can see that you are not repeating the same mistake as often or have even fixed the error forever!
It can take time so remember to be patient with yourself and reward yourself for all your hard work! 🙂
EC London Covent Garden offers different options of English courses, including English for work.
Comments
comments