Christmas is over and London is absolutely freezing cold so here at EC Covent Garden 30+ we, naturally, decided to take our students ice-skating. We advertised it a week in advance and watched as the sign-up sheet filled up. It looked set to be an amazing evening out, ice-skating and falling on our bottoms to much hilarity. What a day it would be!
Sarah took all of the students out after their classes to the Broadgate ice rink  all ready to show off her silky skating skills.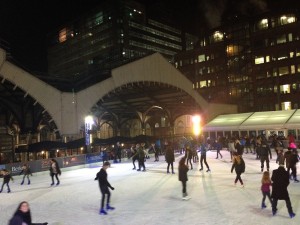 That was until she asked the students to line up to collect their ice-skates. "Oh no! I don't want to skate," they said. "We just want to watch!" And watch they did. They sat down and in the time-honoured tradition of London, they bought a round of pints and had one of the best nights out of the past year, according to Sarah.
So while we might not have ended up skating, a great night was had by all!!!!
For more information on our weekly social programme, check out our 30+ Facebook page every week.
If you think you'd like to join us on one of our outings, check out our adult English courses.
Comments
comments