Sadly, at EC Covent Garden we had to say goodbye to one of our long term students, Angela. Angela has been with us since the summer last year and unfortunately today was her last day. We wish her all the best in everything she does and hopefully we will see her back in London sometime in the future. She has promised to come back and visit us in two years as she is a keen marathoner and will hopefully be running in the London Marathon. Personally, I'm really looking forward to seeing how her English has come on. Keep practising, Angela, you'll be proficient by the time you comes
During her time here, Angela got to know every teacher and gave us all invaluable feedback. It was like she had become one of the team. She worked really hard during her time with us and we are all very proud of her and her efforts. She will be sorely missed.
GOOD LUCK!!!!
And just in case you missed your goodbye sign, here it is again!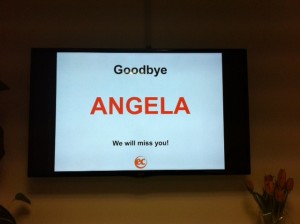 If you want to continue practising your English long after you leave EC Covent Garden, try our Learn English website for quick lessons.
If you're interested in booking English classes for adults, check out our English Courses in London Covent Garden for more details.
Comments
comments