Hello all! So, as it is St. Patrick's Day and I am Irish, I have decided to share a little of the history of St. Patrick and his day. After 15:45 today all of our students in the school, doing a general English course will know everything there is to know about him as I will be giving them a lecture on the topic but for any students who miss it or who are not in the country, read on!
St. Patrick was actually born in Britain, however, when he was very young he was kidnapped by raiders and brought to Ireland, where he was kept as a slave and forced to look after sheep on a hillside. According to his own book about his life, called the Declaration,  he heard the voice of God, who told him how and when he could escape from Ireland. He fled back to Britain and became a priest just like his father.
After some years, he decided to come back to Ireland and he brought Christianity and the written world to Ireland in the 5th Century. Before that, the only form of writing in Ireland was called the Ogham, which was a series of lines on rocks that could be used to write names. This for example, would be my name (David) in the Ogham alphabet…I think, maybe I need a course in the Ogham like your English course.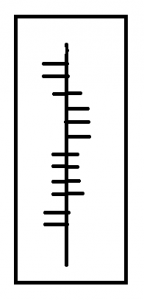 According to legend, St Patrick kicked all of the snakes out of Ireland and went on to be the first Bishop of a county called Armagh. These days, in Ireland, we remember him by having a day off work, going along to the St. Patrick's day parade and drinking Guinness.
Today, after my lecture, I'll be taking our students out for a drink to a local Irish pub.
If you're interested in learning more about English, St Patrick or taking part in our social programme, think about booking an English course for adults in the UK.
Comments
comments