Chris Lewis has been teaching English at EC London 30+ for nearly 3 years and LOVES his football! Have a read of his blog about the Premier League…
Many people don't like football, and I can understand why. It makes people do silly things and, at the end of the day, it's just a game where twenty-two players kick a ball around.
However, for many people it's much more than that. In the UK, it can be a day out for the family (clubs like Ipswich and Liverpool are "family clubs"), it can be an escape from stress in everyday life, and it can be a way to make new friends.
Football in England is wonderful. There's passion, moments of magic, managers trying to outwit one another, and fans either going crazy or tearing their hair out. This season in the Premier League, it's EVEN more wonderful than usual. The rich teams have been doing badly, and the "smaller" clubs have been winning. It's beautifully unpredictable.
The best and most well-known example is Leicester City. Their star players, Riyad Mahrez and Jamie Vardy, cost the club a total of £1,4 million. Compare this to Manchester City, whose most expensive players, Raheem Sterling and Kevin de Bruyne, cost £103 million. That's a difference of £102.6 million! This is what the table looks like at the time of writing: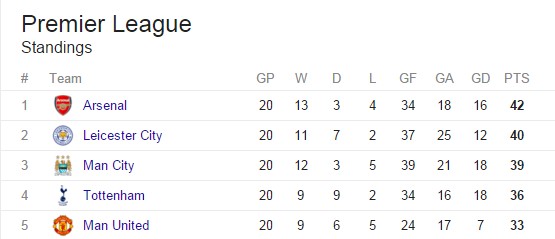 As you can see, Leicester are above Manchester City.
Some people say that the world of football can reflect the zeitgeist of contemporary life. Leicester's success shows us that in life, money does not guarantee success!
If you'd like to learn more about Football or would just like to improve your English, check out the courses we offer at EC LONDON 30+
Comments
comments