---
Today we want to say goodbye to our lovely long term student Mauricio, who just have finished a 11 month course here at EC London 30+
He would love to share his opinion about EC with us.
---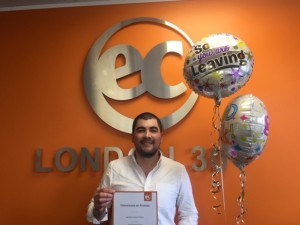 ---
It all began a year ago when I decided to study English abroad because of my strong desire to take my professional career into the next level, so I can apply for some job offers from multinational companies without problems. Therefore, I quit my job and started choosing a good English school I could get the best learning experience to achieve my goal.
I have always dreamed about studying in London because this place is one of the most important cities in the world and there is plenty of things to do such as visiting museums and iconic buildings, attending events, having great time with friends, having meals at nice restaurants, good libraries and learning about new cultures and people.
EC London 30+

has everything it needs to promote people's learning and social capabilities, given the variety of academic and extracurricular programs it offers its students. The teachers of this school are truly committed to the learning of their students, the students are of excellence and come from different backgrounds and the classrooms and library are optimal to improve the English skills.
Attending classes was confusing at the first time because it has been a long time since my last course I took and the teaching methodology was a bit complex. However, I can remember that my first day at EC London was great, the staff was friendly, helpful and available to answer all my enquiries because I was not able to speak and understand English easily. I took the Beginner class for one week and then I moved to the elementary ones.
Overall, I've been studying here for 11  months and in my opinion it was very gratifying the experience because I passed through the different English levels the school offers such as Beginner, Elementary, Pre Intermediate, Intermediate, Upper Intermediate, Business and finally taking Advance and IELTS classes for one week.
---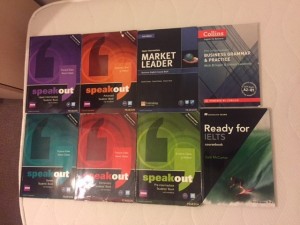 ---
Also, my experience at

EC London 30+ programme

was amazing and I loved the teachers, the place, the classes, the activities that I learned a lot and it will be the best experience of my life. I will definitely miss my great teachers like Melissa, Jessica, Emily, Helen, Mathew, John among others who always helped me advance my progress.
---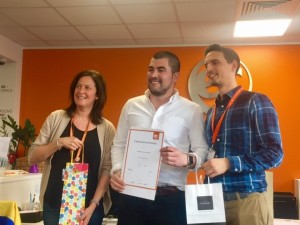 ---
Although it was not easy, I always intended to participate the most in all different classes, extra classes and the social programmes. I would say that the virtual platform is very useful, with plenty of learning resources and it also let you know about your progress.
Now, I am delighted that my English skills have improved considerably because I can use my English with confidence and fluently. On the other hand, I am very sad because I am leaving London soon I know I will miss it so much because I have gained a lot of nice experiences that somehow helped me to improve my personal development. Furthermore I plan to come back to London to study short English courses or just for holidays.
Finally, I would like to say that my experience at 

EC London 30+

 will be unforgettable and unique because I have learned a lot and met a lot of people who I expect to see someday again. I absolutely recommend this school to anyone who is looking for a positive impact in the English learning process and personal development.
---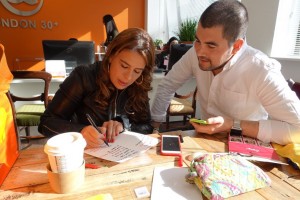 ---
Thanks for sharing your thoughts with us Mauricio.
You will be sorely missed, you made so many friends here and everybody is really sad that you left.
You are a memorable person who travelled the whole world 🙂 and an unbelievable hard working person.
We wish you all the best in your life and we really hope to see you again!
---
Comments
comments