Enjoy Autumn in London!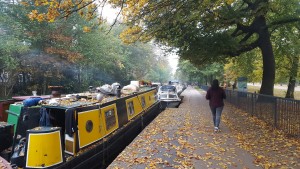 Autumn is officially here and all the leaves are turning yellow, gold and red. Now is the best time to take a lovely walk through one of London's many parks. Did you know London has more parks than most major cities? In fact, 47% of London is green space. Some of the best public spaces to enjoy in the autumn are;
Regents Park and Primrose Hill (Camden)
Hyde Park (central London)
St James's Park (Central London
Victoria Park (in east London)
If you venture into Regents Park and Victoria park, you'll also come across a unique way Londoners choose to live; on narrowboats. Narrowboats are often painted in traditional styles and each one has a unique and interesting name. Walking along the canal you'll enjoy the wonderful smell of fire smoke coming from their chimneys. Why not take a walk along the canal with a friend and practise your English!
Of course, London wouldn't be London without its pubs. And an autumn stroll wouldn't be an autumn stroll without a stop in one of this city's traditional drinking establishments. At this time of year most pubs will also be serving hot toddies (whiskey) and mulled wine (spiced red wine). These are traditionally drunk in cold weather and they will certainly warm you up for the next leg of your walk! Why not ask for one at a pub and practise your English at the same time.
Something interesting about English
Did you know that English has a word for a pleasurable walk with friends? A 'stroll'. A stroll is always relaxed and usually accompanied by friends (or a dog playing in the autumn leaves). It collocates with 'to go for'. So next time you have some free time to spend with friends, why not ask them; "Would you like to go for a stroll?"
Picture in class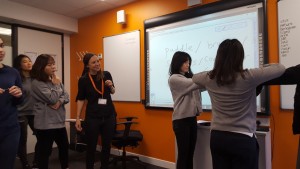 Now the cooler weather is settling in, you'll probably be spending more time indoors than out. Here at EC we know plenty of games to not only pass the time, but practise your English as well. Teacher Angelina has been showing her class how to play Charades, the classic game that can be played anywhere, at home or in the pub! The key to charades is, don't be shy and be as imaginative as you can; test your friends' vocabulary and see if they guess right!
Comments
comments