Delvair's Testimonial, a Brazilian student at EC London 30+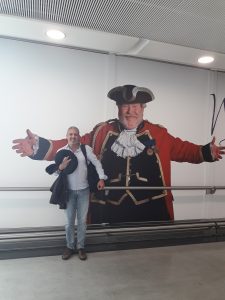 In First I would like to say thank you for your bright classes. I am really enjoyng it!
I came to London looking for improve my English, but also have a great lifes's experience.
I choose EC because was recommended in Brazil for my Interchange Agency and really was a very great choice.
I saw some reviews about EC recomending the school specially because your modern and dinamic learning method.
In the first three days I was really scarried and thought about what I was doing here, but after ten days I can say that I am enjoying the classes and specially the differences between classes and teachers. It´s very important.
London is very special because your diversity and the oportunities that offer for your visitors, including know people of different countries with different accents and cultures.
I knew special friends and we enjoyed together many activities. EC is organized and the teachers are constantly helping us with our doubts and knowledge.
I have been here for 10 days and will be here for more 18 days.
It's important to study very hard if you really want improve your English. Grammar lessons are very important as do the activities and homework is essencial.
I will recomend EC to my friends like a great learning experience for life.
Congratulations and thank you so much for make part of my student life.
Best Regards.
Delvair Mortari (Brazil)
Find out more about English lessons for adults at EC London.
Comments
comments