Let me introduce you to Siham, our new beautiful intern at EC London 30+.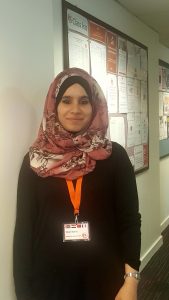 Name: Siham
Age: 26
Nationality: French
Mother tongue: French Studies: Master`s Degree in Consultant and in Charge of Socio-Economics studies specialized in Market research and Marketing.
Home: In France, I live in a Paris suburb and in London I will live in Oval.
Job at EC English School: Student Services Intern 30+
How long are you going to stay at EC? Until October
Other languages: French, Moroccan and Egyptian
Hobbies: Learning languages, Travelling, Cooking and Footing.
Family: I have two sisters and three brothers. One of my brothers is studying to become an engineer in finance and computer science. And one of my sisters is studying to become a teacher. The others are still young. My father is a cook. And my mother is a famous and wonderful woman who does not work because my little brother is still young.
Studies and future plans: I have obtained my Master Degree in September. For the time being, I really want to improve my English oral and have a good time in London.
Favourite food: Raspberry macaroon
Favourite place in London: Tower Hill at night, very wonderful
What is your favourite serie? I do not have a favourite serie but I keen on Turkish and Asian series. Otherwise, I love Prison Break and Breaking Bad.
What is your first impression of London? I feel good in London because I used to live in a big city where everything goes fast.
Why did you choose London? It is the second time that I come to London. I really like London. For me, it is my endearing city because I feel very well in London. Indeed, I like the English culture, the food and the tradition. In addition, there are a lot of things to visit. The English are also very open minded and I think it's really great. I also chose London for EC Language Centers. In this center, the atmosphere is good. It includes students from all over the world. Furthermore, an experience in this Center represents for me a very great opportunity to improve my English-speaking skills and to have an international experience.
Comments
comments