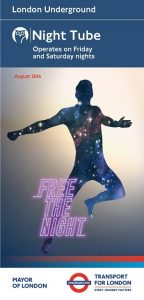 Exciting news for the Londoners and obviously for the tourists.
From the 19th of August NIGHT TUBE are running youhouuuu!!!
After a long wait it's finally on the track, London's tube runs 24 hours service on Friday and Saturday nights.
Not only great for the partiers it's also great and it makes easier the life of a lot of hard workers who work late especially week ends.
Londoners, tourists and "late" workers in London are now able to commute on the five tube lines which are Jubilee, Victoria, Piccadilly, Central and Northern lines all night every Friday and Saturday.
TFL (Transport For London) promises an average of trains every 10 minutes on almost all lines that will be in service these two nights. About the cost TFL will apply standard off – peak fares so £6.50.
However, just be careful because unfortunately the tube won't operate on every branches on all lines but have a look on the map (below) and you'll be fine :)!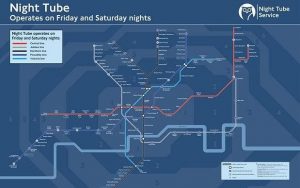 Following the example of New York, London city is slowly but surely entering into the sphere of the cities which "never sleep".
Enjoy your trip :)!!!!!
Interested in having more information about our school, about English learning for adults, check our website and see you soon in London!
Comments
comments