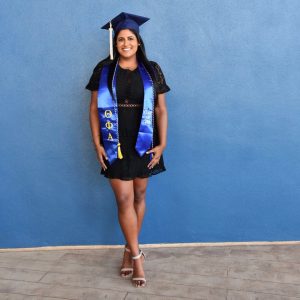 Name: Malini Uttam
Age: 22
Nationality: I was born in England, but I was raised in America.
Home: Orlando, Florida, USA
Job at EC London: Student Services Intern 30+
How long are you going to stay at EC? Until October
Hobbies: Travelling, running, going to the beach, and hanging out with my friends.
Family: I have two younger sisters who live in America. One is 20 years old and attends dentistry school University of Florida. My other sister is 13 years old, and she is a synchronized swimmer. My mom and dad work together in real estate investment.
Studies and future plans: I have my bachelor's degree in Business Administration with a minor in Entrepreneurship from Florida Atlantic University. My dream is to work for a nonprofit organization that opens schools for less fortunate children in third-world countries. I am hoping to stay in London for the next couple years.
Favorite food: PIZZA!!!
Favorite place in London: Oxford Street, I love to go shopping!
Favorite place you have visited: The Bahamas! I have got to go to the Bahamas multiple times with my friends and it was an amazing time.
What is your favorite TV series? I love all crime TV shows, but my favorites are Criminal Minds and Hawaii Five-0. I also like to watch Grey's Anatomy and One Tree Hill.
Why did you choose London? I chose to come to London, because since I was young I loved coming here. My mom and dad used to bring us every summer to visit my family. All my extended family lives in England, and I enjoy spending as much time with them as I can. Last summer I studied abroad in London, and I had another internship. That's when I knew I wanted to move here once I graduated college. I'm excited to meet new people and learn about different cultures in these next 3 months at EC London.
Find out more about EC's English classes for mature students in London.
Comments
comments