Fifteen of us had a great day out in Cambridge on Saturday 13th June. Leaving from Kings Cross we arrived in Cambridge forty-five minutes later and walked straight to Parker's Piece, a famous open park in the centre of town. Originally used by the university as a football and cricket pitch, today it's also home to hundreds of summer picnickers and the odd fair and market.
Lucky for us Saturday saw a colourful farmer's fair come to town, full of cows, sheep and pigs, as well as stalls and stalls of delicious homemade food and drinks. When we'd all finally(!) had our fill of wandering, tasting and playing the fairground games, we re-grouped and headed to the river.
Cambridge is famous for its punts, which are flat-bottomed boats, perfect for idle pleasure trips (like an English version of a gondola, but powered by somebody pushing a pole into the riverbed, rather than by an oar). Since Cambridge's river Cam is so shallow and passes through the heart of the city and past come of the most attractive old college buildings, chapels and halls, it makes for ideal punting, so it wasn't long before we all gave it a go. We split into two groups, with twelve taking a guided tour and the rest braving it with Geoff (who got wet but didn't fall in!).
A couple of hours later and we were ready for a rest and some lunch, so we relaxed by the water for a while, eating and enjoying the sun whilst watching the world go by.
When it was time to leave, ten of the group were so happy where they were they decided to enjoy Cambridge a bit longer and take a later train home. It was a tempting thought but we'd already had a very full day, so the rest of us meandered back through the streets towards the station, catching a train back to London for 6pm.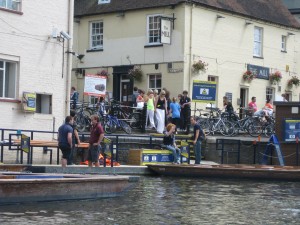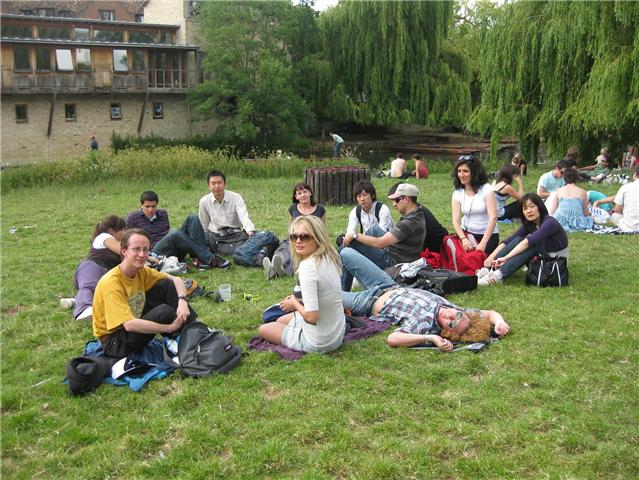 It was a very good group and an amazing hot, sunny English day, and we all had a lot of fun getting the historic and beautiful city of Cambridge.
Comments
comments