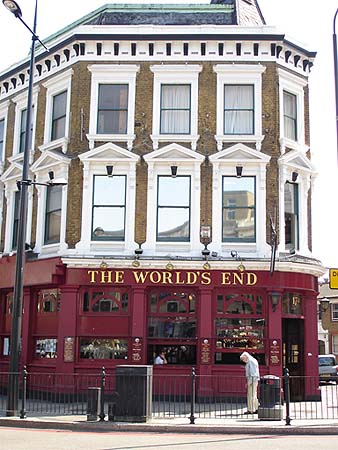 Hi! Some people have asked me for places to go to around London.  I know that going to places in Central London can become quite expensive, so I decided to make this list of bars and pubs in and around Camden Town, where I used to go to as a student…and where I like to visit from time to time. I'll include some of my thoughts about these places, and maybe even a bit of history about them.
I'm going to list them down week by week. Maybe you can go there, check them out and let me know what you think.
Here's this weeks place:
The World's End- 174 Camden High Street
This place is located right opposite Camden tube station. It's one of Camden's more historic pubs. Apparently it was an inn during the late 1700s. It's an ideal place for meeting up with friends before going to the market, or better still, a place to chill out after the market. Downstairs is the popular Underworld music venue and club which has events on most nights.
I was slapped in the face by a strange goth girl there once. True story!
It was during a live music gig at Underworld about 10 years ago. A beautiful goth girl was standing under one of the speakers and looked a bit lonely. I thought that it would be a good idea to buy her a drink, so I walked up to her and asked her if she wanted a drink.
I simply said, 'Do you want a drink?'
Without hesitation, she quickly turned around and slapped me hard! I mean, it was so hard I actually dropped my drink and my eyes started tearing. It was a proper 'I Want To Kill You' slap. Definitely not the reaction I expected.
My friends were as shocked as I was. One of them, a really tough female kickboxing champion, asked me what I had said. She couldn't believe what had happened.
"All I said to her was, 'Do you want a drink?" I explained to my tough female companion as I ordered a new drink.
"Let me speak to her!" she insisted as she pushed me aside and headed straight towards the lonely girl.
The two girls started talking, and after a few seconds, they were laughing and pointing at me. What were they talking about?
Then they both started walking towards me.
When she approached me she asked, "What did you say to me back there?"
Not wanting to get another slap, I cautiously said, "Do you want a drink?"
'Oh! I see," she said, as if she had just realised the misunderstanding.
"Look, I'm sorry I slapped you," she apologised. "I thought you said, 'Dude, you stink!"
Then she reached for my beer and drank it all in one big gulp.
'Thanks for the drink,' she said.
After that, she gave me a smile and walked into a crowd of drunken revelers and disappeared.
If there is a lesson you can get out of this story, it's: Don't try to chat up people under loud speakers. You will be misunderstood.
Another important lesson is: Avoid freakishly beautiful gothic women. They'll drink all your beer and leave you.
Cheers!
By Frits, EC London Teacher
Comments
comments