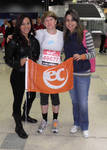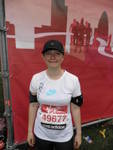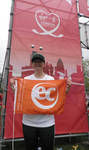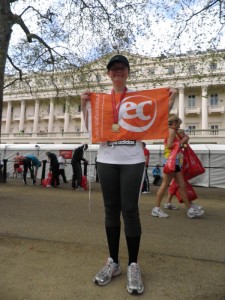 On Sunday, I completed my first ever marathon and I thought I'd tell you guys about it… The 30th London Marathon took place on 25th April 2010 and over 30,000 runners took part. I had always wanted to do the London Marathon as my mum has always been into running and we used to watch it on TV together every single year. So it had long been an ambition of mine to run it. That being said, I was extremely nervous in the days leading up to it and just beforehand.
Unfortunately, my training had not been going well for the previous two months as I had been injured and had problems with pain in my shins. On the actual morning, I was relieved as the weather was cool and overcast. The race started at 9.45 but there were so many people that I didn't actually cross the start line until 10.08. The first 13 miles were not too bad and it was great to run over Tower Bridge as that meant I was at the half way point. I think I had always known that one day I would do the London Marathon and running across the famous bridge felt surreal. I had seen it done so many times on TV and I waved at the BBC cameras as they filmed us.
During the race, spectators lined the streets clapping and cheering. They were so positive and encouraging and their support really helped me keep running.  They handed the runners free sweets like Jellybabies as well as other snacks like slices of banana and orange. One stranger even handed me a chocolate bar as I ran past that he had carefully unwrapped halfway for me. I can still see his face in my mind's eye. The atmosphere was amazing!
I was over-the-moon to see my friends standing at mile 22 just when I was starting to find it difficult to carry on and wanted to give up. My friends gave me a banana and a big hug and it really helped me mentally. Only two miles from the end and I could see Big Ben, which was near the end of the race. When we finally saw the finish line at Buckingham Palace, I was overjoyed! I managed to complete my first marathon in 4 hours and 56 minutes.
To see my official result, click on the webpage below:
http://results-2010.virginlondonmarathon.com/2010/index.php?content=detail&fpid=&id=9999990F5ECC83000006B837&lang=EN&event=MAS&ageclass=
Comments
comments