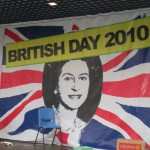 Following the success of the Australia Day event back in January, Saturday 15th May was officially hailed the first ever "British Day" in Guangzhou, south China! 800 people descended on the British School of Guangzhou for a fun-filled family day of music, games, Union Jack bunting and great British grub.
I first heard about the event idea when I arrived in Guangzhou in January and joined the organising committee in my very first week – yes, it has been said that I was born with a clipboard in my hand 😉 I soon found that it was a great way to meet people in the city and to become more involved in my new community.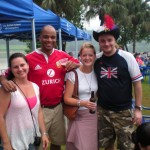 I was given the role of "Sponsorship Co-ordinator" which involved cold-calling the likes of KPMG, Nike and Qatar Airways to ask them very nicely if they would like to give us some money (to be donated to China's Red Cross) in return for having their company logo printed on our email flyer and stage backdrop. I was a bit apprehensive at first but everybody was very receptive and surprisingly keen to dig deep in their pockets! By the time the event came around I had 22 sponsors and a top raffle prize donation of a flight ticket from Guangzhou to anywhere in the world!
The day itself was a huge success with lots of positive feedback from adults and kids alike. We all hope that next year's event will be even bigger and better! Who knows, maybe British Day will even become a recognised national day celebrated by expats and others across the world…?
Comments
comments