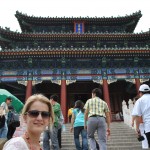 So, amazingly this is my 23rd and final week of living in Guangzhou, south China. I travel to Hong Kong tomorrow and then fly home to London early on Friday morning.
I can hardly believe that the time has come to pack up and say goodbye to the people and places I have come to know so well. In the last few days I have started to think about what I will miss and what I will be happy to leave behind! Here are my conclusions:
What I'll Miss: My Chinese classes, my teacher, all our new friends, our lovely apartment, the free gym and swimming pool, weekends in Hong Kong, having so much free time, unbelievably cheap manicures, speaking Chinese, shopping at the markets, walking along the river in the evenings, being surprised by something new every day, Boca cafe and Melody the lovely waitress, never having to wear a jacket, moments of thinking "We live in Chiiina!" 
What I Won't Miss: squat toilets, all the spitting, eating with chopsticks, Guangzhou taxi drivers, the smog, the supermarkets, paying £6 for a box of Cornflakes, eating snake and toad, taking your life in your hands every time you cross the road, being stared at!
So, overall I think I would have to give my China experience a score of 5.5 on the End Evaluation form. It has been a real adventure and I am so happy to have done it but am really looking forward to going home and getting back to my old life.
See you back in London!
P.S. Who do I speak to about my scores of 3 or below?
Comments
comments